As Millions Starve, A Third Of The World's Food Rots
Charities Decry Food Aid Cuts Pushed by House Republicans
… Healthy food is a basic human right," she said. "I decided to rip up my whole backyard and make it all a garden, and it just kind of snowballed from there." If you don't live in an affluent part of the city … your easiest options are the dollar menu or the convenience store. CNN Hero Robin Emmons Today, Emmons has 200 volunteers helping her tend 9 acres of crops on three sites. Since 2008, she says, her nonprofit, Sow Much Good , has grown more than 26,000 pounds of fresh produce for underserved communities in Charlotte. At first, Emmons donated her locally grown, chemical-free fruits and vegetables to churches and food pantries. But she soon started selling them herself in the neighborhoods that need them the most, for what she estimates is about half the price of organic produce sold in stores. With her 1,000-kilowatt smile and boundless energy, some might call Emmons a goodwill ambassador for healthy eating. She'd claim that her produce — from cucumbers and okra to watermelon and blueberries — can sell itself, but her enthusiasm certainly doesn't hurt. "Everyone's been excited about the string beans," she says to one customer. "How are you going make yours?" She strives to make her food as affordable as possible. People are also able to use their food stamps to purchase anything she sells, including seeds and seedlings so they can grow the food themselves. Emmons and her volunteers distribute recipe cards, too, and urge customers to attend the group's free cooking demonstrations and canning classes. It's all part of their mission to help people take control over what they are eating and improve their health.
Study: 401(k) retirement plans failing most workers Said Jose Graziano da Silva, director general of the FAO, in press conference on Wednesday: "One-third of the food produced today is lost or wasted… equivalent to the Gross Domestic Production of Switzerland. … We simply cannot allow one-third of all the food we produce to go to waste or be lost because of inappropriate practices, when 870 million people go hungry every day." According to the report, in high-income countries most of the waste comes from excess food being thrown out after being cooked, while developing countries waste food during production because of inefficient farming as well as inadequate storage facilities. Reducing food waste would ease demand for scarce natural resources, now being strained as food production is increased to meet the demands of the world's fast-growing population, the report said. In order to cut waste, the FAO is calling for improving communication between producers and consumers to better manage the supply chain, and for investing more to improve harvesting, refrigeration and packaging methods. The agency also says consumers in the developed world should be taught to serve smaller portions and eat more leftovers. Businesses should give surplus food to charities and develop alternatives to dumping organic waste in landfills. The food agency also stressed the importance of recycling unusable food, "with energy recovery allowing energy and nutrients to be recovered from food waste, representing a significant advantage over dumping it in landfills. Uneaten food that ends up rotting in landfills is a large producer of methane, a particularly harmful greenhouse gas." San Francisco has initiated a recycling and composting program aimed at achieving zero waste of any kind by the year 2020. Similar, if more limited efforts are underway in other cities.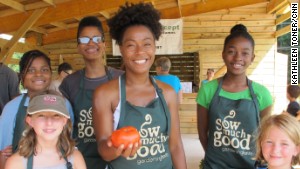 The report cites the non-partisan CBO, which gauges the cost of legislation for U.S. lawmakers. The CBO hasnt publicly released an estimate for the food-aid bill. End Benefits The food-assistance bill would end benefits to as many as 6 million low-income people, according to an August report from the Center on Budget and Policy Priorities , a Washington-based group that studies the governments impact on low- and moderate-income families. The group wrote that it relied on reports and public comments from Republicans describing the measure. The bills text hasnt been released. The increased demand on already-strained local services and charities would be substantial – either displacing support for other needy residents, such as seniors and low-income working families, or leaving those cut off without sufficient food, the group wrote in its report. The cuts in the food stamp bill are expected to be roughly double what House lawmakers considered earlier this year. House Republicans sought to cut $20.5 billion over 10 years from nutrition programs including food stamps in H.R. 1947. That bill was defeated in part because Democrats balked at food-stamp work requirements and in part because some Republicans said the food-cuts were too small. Bigger Cuts Under a deal reached among Republicans last month, the new legislation is being written with $40 billion in cuts, according to Agriculture Committee Chairman Frank Lucas , an Oklahoma Republican. Those proposed cuts are about 10 times greater than the $4 billion in reductions in a Senate-passed bill, S. 954.